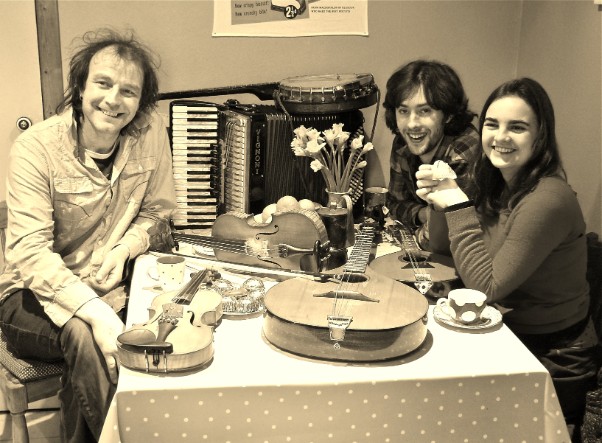 Johnny Lewis Morag
Jiginaboot Ceilidh Band was formed in 2011 and has been playing at ceilidhs up and down the country ever since. Our music is mainly made up of tunes from Scotland and Ireland, as well as from England, America, France, the Balkans - and our own heads! The band is currently based between the Scottish Borders and Newcastle upon Tyne.
Lewis plays bouzouki, guitar and accordion with Jiginaboot (unfortunately not yet simultaneously). He lives in Newcastle, where he recently graduated with first class honours from the Folk and Traditional Music degree course - winning the prize for the best final recital. Lewis has performed with many groups over the years, covering a wide range of traditional styles from Scotland and her neighbours, Europe, the Balkans and the Middle East. As well as Jiginaboot, Lewis most regularly performs with Balkan group Horovod, the Matt Seattle Band and as a duo with Morag. Lewis has performed in Europe and Asia as well as across the UK.
Morag's fiddle-playing reflects a wide range of influences: primarily Scottish and other traditional styles from around the British Isles, but also from across Europe and the Middle East. Morag is from Edinburgh but is currently based in Newcastle, having been awarded a Masters in Music with distinction from Newcastle University back in 2013. Morag is an experienced dance caller, and has worked with a number of ceilidh bands over the last decade. She also performs regularly with various other projects, including Balkan ensemble Horovod, the Matt Seattle Band, Awry and as a duo with Lewis. During weekdays Morag teaches Suzuki violin and fiddle in Newcastle.
Johnny is a legendary fiddler from Peebles, and founder of groups such as One Glass Eye, Oi Tate, and the Barrel Scrapers. In earlier years he lived in Berlin and toured with a punk folk lineup across Germany. He has an extensive repertoire of his own compositions, some of which have been incorporated into the band arrangements. As well as fiddle and banjo in Jiginaboot, Johnny also plays, to an enviable standard, Greek bouzouki, Irish bouzouki, tin whistle, bodhran, mandolin, classical guitar, as well as anything else you might care to offer him. In his spare time he runs a business building, selling, and hiring out tipis - www.wolfglentipis.co.uk.